3 years

Steven and I had our three years on Tuesday. What can I say about this relationship that hasn't already been said? I am amazed everyday on how far we have come together. I am so young, and to have this joy so early in life is such a blessing. Thank you to this wonderful boy who came and turned my life upside down, but somehow managed to put everything in place. I wouldn't trade anything for our late night cuddles, making up songs about our love while driving, kisses in between words, and all the tears we've shared in goodbyes. Our relationship is hard, but I have never doubted that you were the one. I can't believe how much I adore you even more every day. I love you Steven Cody. Thank you for this wonderful adventure.


I spent the night Saturday, and we came back to Long Beach on Sunday. I gave him his present when I got there, and he was really ecstatic about it.


(It was a wallet he's been wanting.)


Monday we went to South Coast Plaza for some shopping and dinner at Claim Jumper.


We stayed up until 12 to wish eachother "Happy Anniversary." We covered each other in kisses, and went to sleep. In the morning, I went to class. It was boring, and I was too giddy and glowing to just sit there. I was home by 10:30, and my love was still sleeping. I woke him up, but he said he was feeling sick, so I laid down with him and ended up sleeping until 1. Steven was actually really sick, and as much as I begged him to just stay in bed, he got up so we could go have a fun day. I felt awful, but he insisted. We got dressed, and headed to the duck pond.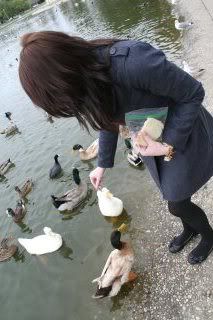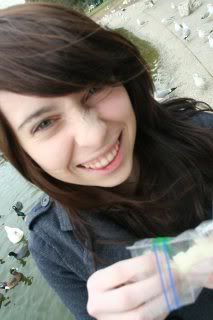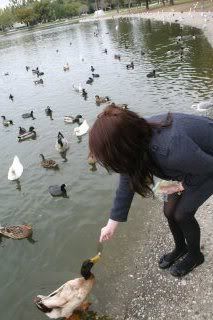 We grabbed some lunch and tea at the delicious Cha for Tea, where Steven got soup and Strawberry Milk Tea that helped him feel better. I had green apple green tea, and some chicken dumplings.



Then we went down to 2nd Street, and walked around. We stumbled upon a vintage store that I've never been to before, and I found an amazing perfume tray for $5! I had been looking for one, and it was a good find. They had free books out front, and Steven found 3 old horror books that he had been looking for. We were both stoked. It was nice just walking around and talking. We went down to fingerprints, which is a really cool record store. There was a sign out front that said the Watson Twins were playing in a few weeks, so I immediately bought tickets for Leslie and I. I am really excited for it! I played some for Steven, and now he wants to go. After fingerprints, we went to Color Me Mine. I haven't been there since I was really young, and I've been wanting to go with Steven. Basically, it's a place where you paint ceramics however you want, and they bake them for you. Steven painted a boat coin-bank, and I painted a tea-cup! I pick them up on Tuesday, and I'm excited to see how they turned out. I want to paint everything in there. It was a lot of fun.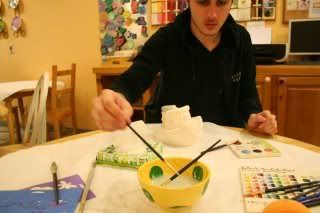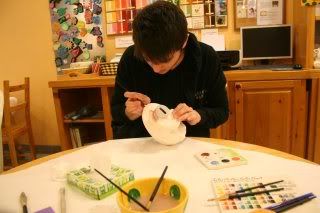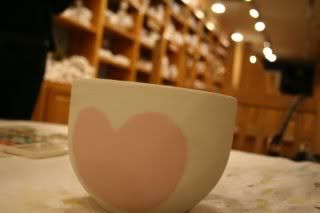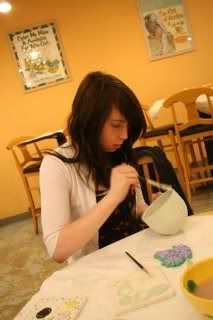 We picked up a pizza, and came back to my house to relax. It was a really nice day :)


He went home yesterday.
It was a lovely weekend.