If you've been keeping up with my tumblr, you know that my mom isn't living with us anymore. This means I'm officially in charge of cooking. When my mom was living with us, I cooked often but now I actually have to plan meals! So here is what I made this week.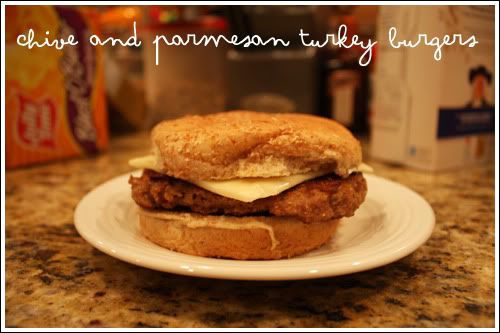 From Betty Crocker
1 lb ground turkey
1/3 cup grated Parmesan cheese
1 tablespoon chopped fresh chives
1/4 teaspoon pepper
1/8 teaspoon salt
4 hamburger buns

Heat gas or charcoal grill. In medium bowl, mix all ingredients except buns and onions. Shape mixture into 4 patties, about 1/2 inch thick.
Carefully brush vegetable oil on grill rack. Place patties on grill rack over medium heat. Cover grill; cook patties 12 to 15 minutes, turning once, until thermometer inserted in center of patties reads 165°F. Add buns, cut sides down, to side of grill for last 4 minutes of grilling. Serve patties on buns with grilled or raw onion rings.

I used wheat buns, and sliced fontina cheese from Trader Joes. I've made these before and they are so delicious! The parmesan and chives keep the turkey from tasting bland.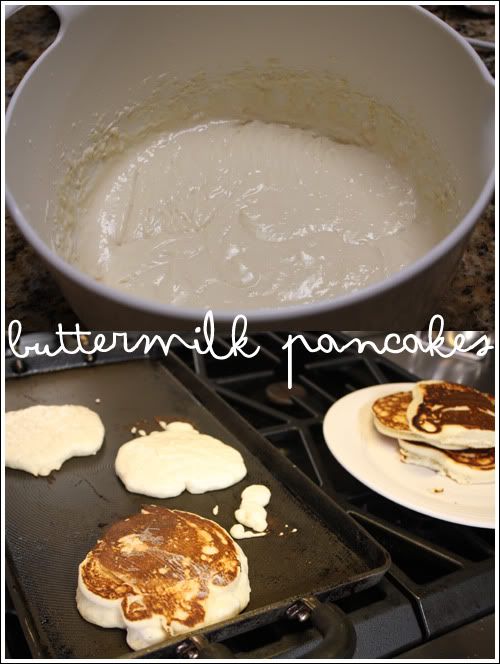 Simple and delicious bisquick buttermilk pancakes from Betty Crocker
2 cups Original Bisquick® mix
1 3/4 cups buttermilk
1 teaspoon baking soda
1 egg

Heat griddle or skillet over medium-high heat or electric griddle to 375ºF; grease with cooking spray, vegetable oil or shortening. (Surface is ready when a few drops of water sprinkled on it dance and disappear.)
Stir all ingredients until blended. Pour by slightly less than 1/4 cupfuls onto hot griddle.
Cook until edges are dry. Turn; cook until golden.

Easy peasy and yummy.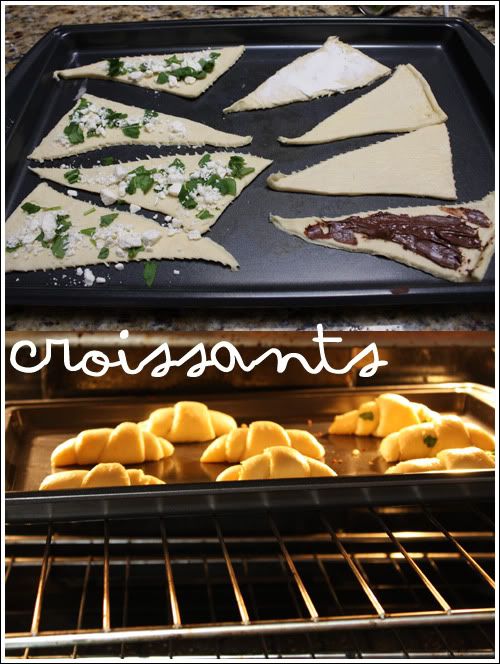 These are just basic pre-made Pillsbury croissants. I made 4 with spinach and feta, 1 with nutella, 1 with cream cheese, and 2 plain. The spinach and feta cheese came out amazing and were the perfect workday snack.



Pre-made cinnamon buns. Just bake and ice. Nom.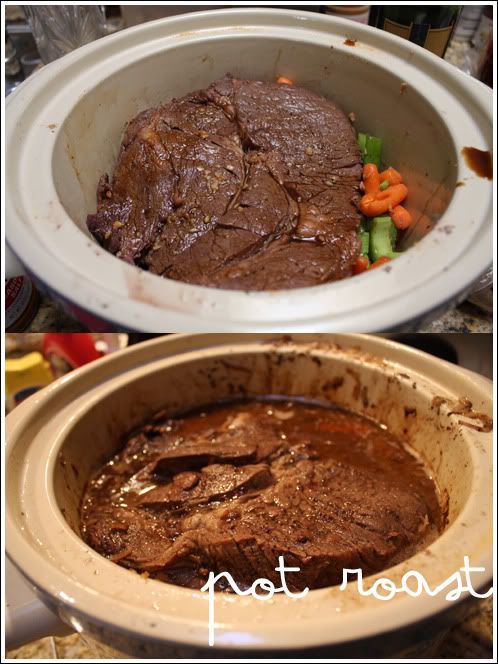 I based the recipe off of this one from AllRecipes but put my own spin on it with splashes of red wine and other ingredients I had around. It cooked 5 hours on HIGH in the crock pot, but I'd like to cook it for 8 on LOW next time so it can really roast. I served it with mash potatoes and salad, and it was a big hit at the table.

So that's what I've been cooking over the past week! Tomorrow I am having lunch and shopping therapy with the lovely Mary Claire, then spending some quality time with my family in Santa Monica. Monday I go back to school from Spring Break, and although I'm not excited to go back, I'm ready to end the semester with a bang.

Have a beautiful weekend!