A

sick couch

is the place to be when I'm down with a cold or flu. Basically, it's a couch in a different room than your bedroom tailored perfectly to your sicky needs. Mine usually has all the pillows from my bed, a few prime blankets, water bottles everywhere, and a remote always nearby.
Thanks to my brother, I've been hanging out on my sick couch for the past couple of days. The stomach flu is awful, and thanks to it I missed out on seeing the boy.

Speaking of the boy, Steven put in his 2 weeks at Starbucks yesterday. I am floating on air at the thought of this finally happening. He has to go in for his first day on my birthday, but I'm not bothered at all. He is leaving his job, his home, his friends, and his town behind for

us

. That is the most incredible birthday present, and I couldn't be more grateful.

Today I mustered up enough energy to get out of the house and wear something other than pajamas.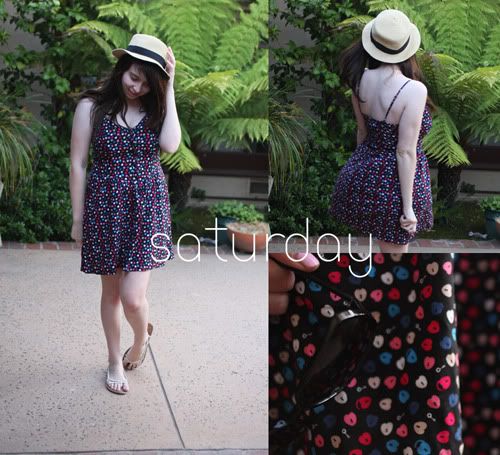 Heart Locket Dress from H&M
Sunglasses from H&m
"Madeline" Hat (that's really what it's called!)

from Forever 21



In my outfit, I ventured to Target, an antique store, the UPS store, In N Out, and the dog park. It was a laid back Saturday, which I'm always appreciative of.

To be honest, I'd like to skip these last 5 days of June and get to July. It's going to be absolutely fantastic!
Why, you ask?

1.

Steven moves in


2. 4th of July bbq pool party @ mi casa
3. birthday!~!~!~!
4. Road trip with Mary Claire and Marielle to visit the Preussers!
5.

Steven will be living with me


6. apartment hunting
7. 3 commissioned photo shoots
8. it'll be almost August which will be equally awesome

Super excited!


Stay tuned