As much as I would like to post every picture and detail my entire weekend, I'm going to spare you and give you a synopsis of my wonderful trip.
For my trip in picture and text updates, click here.

Thursday night, Mary Claire came over and we all went to see the last Harry Potter movie.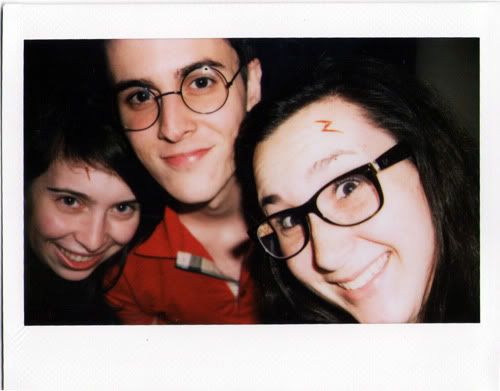 photo by Mary Claire
Steven and I went to Whimsical Alley that morning and bought a bunch of tattoos and a few wands to accessorize.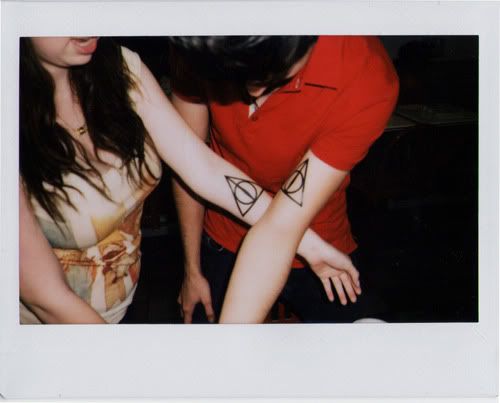 photo by Mary Claire
Our deathly hollows tattoo didn't come off until days later.

The next morning, MC and I packed up her car and headed to Marielle's. We made a necessary Starbucks and ATM run, but were officially on our way by noon. The drive up to our first stop was full of excitement and conversation, and before I knew it I was sitting inside Marielle's house.

Before I go any further, I guess it's important to note that we all met through tumblr. I had already met N'tima and her husband Steven while they were honeymooning here in Southern California. Mary Claire and I met back in the fall, and she accompanied me to meet the newlyweds during their honeymoon. Marielle and I hadn't met before this trip but we hit it off spectacularly.



After a few errands with Marielle (necessary film stop) we were on our way to N'tima's. This was the longest stretch of the drive, but it went by fairly quickly due to even more mounted excitement and lots of talking.

We pulled into the Preusser's home and were greeted with hugs and Margherita pizza. We spent the night staying up way too late catching up on each other's lives. Us guests set up in the guest room and quickly passed out (or at least I did, I was so tired.)

The next morning N'tima made us parfaits and we collectively got ready for photos.



We drove to a field full of windmills and took pictures of the lovebirds and each other



This was our equipment, excluding another Instax Wide and a Canon Rebel XSI



After lunch and some quality laughing on the internet time, us girls did what we do best. Shopping.
Thrift shopping, that is.


I found these adorable tea cups, and a brand new coffee press! I love them. I also found a Polaroid with an almost full pack of film still inside. SCORE!
We laughed our heads off at creepy dolls and swooned over amazing finds. It was a blast.
We had Quickly's for dinner, and N'tima's insistence and I'm so glad we did. It's similar to Cha For Tea but the drink I had was ten times better than anything I've ever had at Cha. The food was also very very good.



After filling our bellies, we went back to the house for quality girl time.
NAIL POLISH PARTAAAAAAY



The next morning we woke up to an amazing breakfast cooked by the Mr & Mrs and went out to take more pictures.



I am a terrible model (awkward forever) but Mary Claire took this one of me that I love a lot.



One the way to Quickly's the day before, I spotted a sunflower field and insisted we investigate. We pulled over, but the owners had built moats between us and the flowers. Defeated, we left but promised to return the next day to find a spot that we didn't have to walk through water to get through.
And we did.


We stayed in the flower field for

2 hours

before it got too dark to shoot anymore. I was in love and ecstatic to be photographing in a dream location. I took some of my favorite pictures I've ever taken, and it was amazing to be around 3 ladies who were just as excited about the same thing I was.


Photo by Marielle

We left the next morning, and it was such a bummer to go. I got so close to these girls in 4 days, and I miss them a lot already!

Photo by Steven Preusser

The drive home was pleasant but not as upbeat as the one on the way up.

We stopped in Marielle's town to finish off our rolls and to grab some lunch, then Mary Claire and I headed down to the coast.


We were back in my town by 10ish after an entire day of driving.

I had an amazing time with amazing people. The Preusseurs are quite possibly the sweetest people in the entire world. Marielle and Mary Claire are absolute goddesses. I am so lucky that I got to meet them and spend a few days of uninterupted time with them.

It was lovely to know that Steven would be here when I arrived home, and sometimes I can't believe how blessed I truly am.

I shared mostly my photos in this post, but if you want to see some truly amazing shots, please visit these flickrs
Flickr.com/StevenPreusser
Flickr.com/MaryClaireRoman
Flickr.com/ThisElephants

Goodnight friends.