YOU HAVE 24 DAYS LEFT TO BUY ALL OF YOUR PRESENTS. DECEMBER IS HERE.
Don't worry, I'm here to help you shop for your favorite people.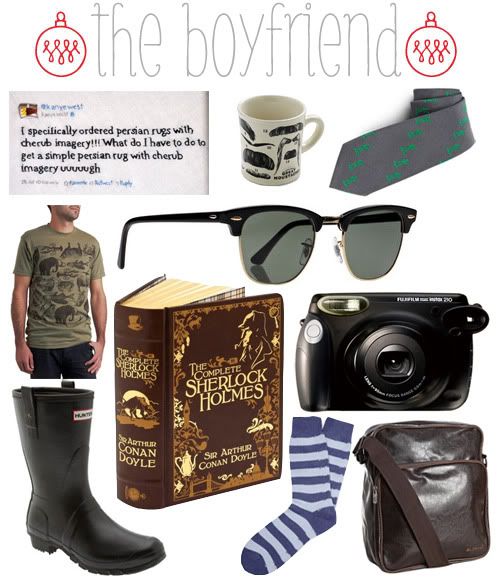 Your Favorite Kanye West Tweet Hand-stitched and Framed by SuperVelma- Hilarious piece for your guy's living room.
Whisker While You Work Mug- The perfect mug for your manly man.
Public Opinion 'Toy Troopers' Woven Silk Tie- Classic gift with a twist.
Zoology Whiz Tee- Comfy tee he can throw on with just about anything.
Ray-Ban Clubmaster- Cool & classic.
The Complete Sherlock Holmes- Because what guy doesn't want to solve mysteries?
Fuji Instax Wide Instant Camera- For capturing your sweet moments and unleashing his creative side.
Hunter Rain Boot- For kissing in the rain & not worrying about soggy shoes.
Striped Cashmere Socks-Throw in a 10 minute foot massage and you'll win best GF award.
Ben Sherman Messenger Bag- Perfect for his books, laptop, snacks, and all his gadgets.




SPLENDID Draped jersey cardigan- Perfect piece for everything mom does. From carpooling to girl's night, she'll loooooove this cardi.
Birds on Branch Necklace by Opalj- Order one with yours and your sibling's initials as leaves. Moms love that stuff.
Paula Deen 2 Qt. Steel Teakettle- Cute update to the boring old teapot.
Sweet Sayonara Scarf- Perfect pop in your mama's usually neutral outfits.
Betsey Johnson Flip-Flop Slippers- Her feet will thank you.
Kate Spade Desk Calender- An adorable way for her to keep track of all that she is up to.
Republic of Tea's Holiday Stackable Tin- Seasonal teas for her to drink while snuggled up with a good book.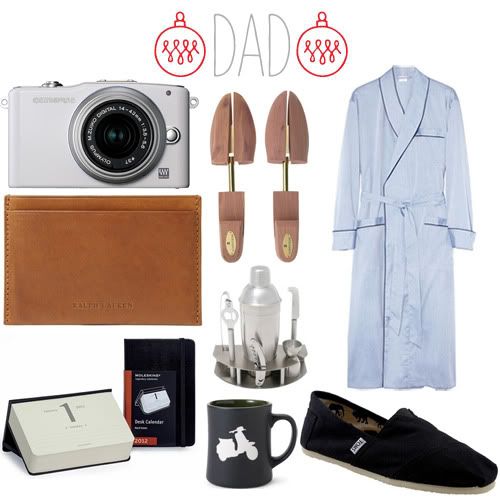 Olympus PEN Camera- "Yeah Dad, film is great but THIS takes HD video!"
Cedar Shoe Trees- Dad stuff. I don't really get what these are for but I know my dad always needs more them.
Brooks Brothers Bathrobe- To update the robe he still uses from the hotel him and your mom stayed on their honeymoon.
Credit Card Case- For just his essentials.
Celebrity 7-pc. Satin Bar Set- To impress everyone with fancy drinks at Christmas dinner.
Moleskine 2012 Desk Calendar- There's room for him to write his appointments without taking up too much desk space.
Italian Roast Mug- Yeah, that mug that your mom had made for him with your face on it is cute, but this is just cool.
TOMS- Hip shoes for a good cause.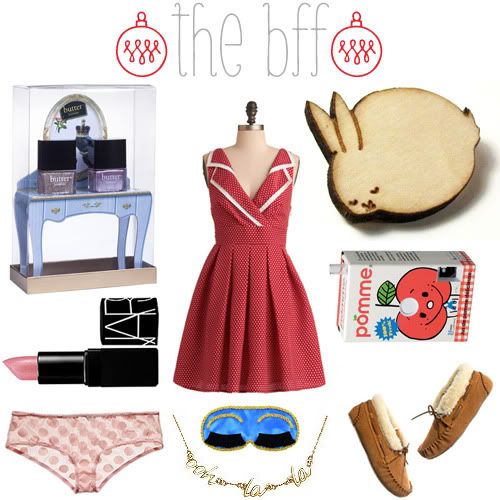 Butter London Duo- For mani pedis at your next sleepover
Esme and the Laneway Dress- The dress you'll also end up buying for yourself because she's sick of you begging to borrow it.
Sleeping Bunny Wood Pin by Missy Kulik- Adorable pin for her favorite cardi.
NARS Lipstick- Pick a shade you've been dying for her to try.
The Juice Box Camera- Purse friendly camera for her to capture everything she sees.
Polka-Dot Undies- Who doesn't feel 10 times cuter while wearing cute underwear?
Holly GoNightly Sleep Mask- For the BFF that can recite every line from Breakfast at Tiffany's in her sleep.
Kate Spade's "ooh la la" Necklace- In memory of the scandalous moments you've shared.
Minnetonka Booties- To keep her warm during your late night coffee dates.





Happy shopping!!!